The EUROM is one of the partners of the NGO Mèdicus Mundi Mediterrània in this project that aims to take stock of the cooperation between the cities of Sarajevo and Barcelona after the 1990s war in the Balkans until nowadays. The project aims to inspire citizenry throughout a series of debates, a cinematographic production, and an interactive timeline. Another goal of the project is to sensibilize authorities and policymakers regarding current cooperation initiatives.
30 years ago, Barcelona began a unique and vibrant relationship of cooperation, brotherhood and love with Sarajevo. This relationship was activated just when the Balkan War and the siege that punished the city for more than 4 years ended.
Sarajevo has always been a symbol of miscegenation, multiculturalism, tolerance, diversity and freedom. It was about to fall at the feet of fascism, but today the city is more alive than ever.
The project "Barcelona-Sarajevo: a history of 25 years of brotherhood and struggle for freedom" is launching a campaign in which the inspiring story between the two cities and the staging of current Sarajevo will be the central arguments. A campaign that will use cinematographic and musical language to bring citizenry, and especially the audiences traditionally far from the world of cooperation and development aid, closer to the reality of the city, creating training and reflection spaces based on the messages of tolerance, diversity and the struggle for freedoms intrinsic to the relationship between the two capitals.
---
Activities
October 07 – EUROM | Fundació Solidaritat UB
Online Workhop

Online meeting with the main actors and entities involved in the historical cooperation process between Barcelona and Sarajevo, and Catalonia and Bosnia and Herzegovina.
---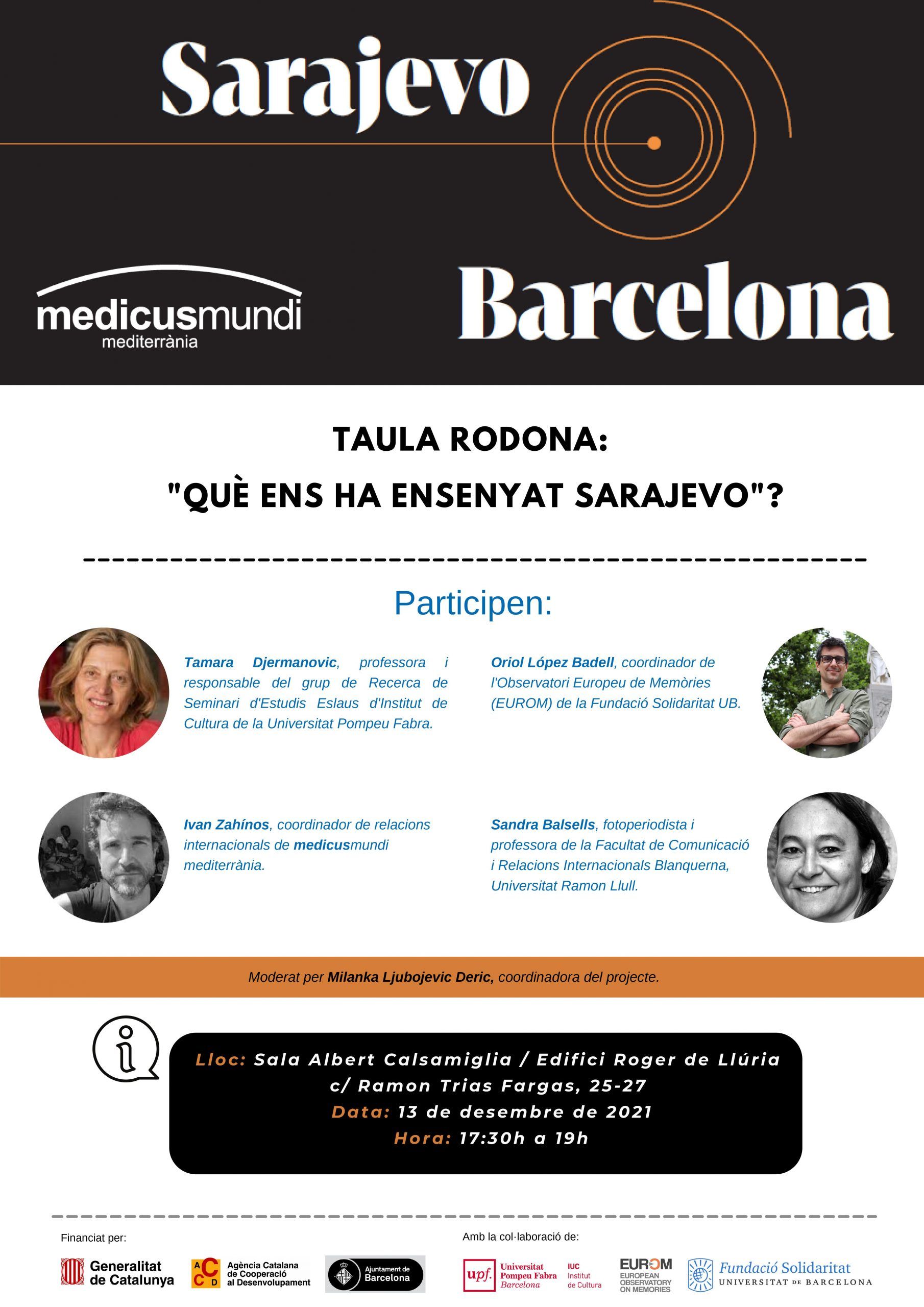 ---
December 16 – Cinemes Girona
Preview session of the movie "Maldita. A love song to Sarajevo"

Artists Božo Vrećo and Clara Peya are the protagonists of this new documentary by Medicus Mundi and Kanaki Films, a musical journey back and forth between Barcelona and Sarajevo, an artistic tribute to the love story between the two cities.