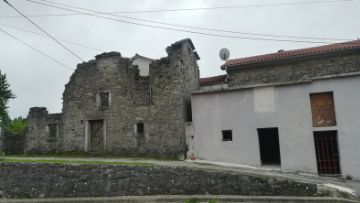 After the capitulation of Italy in September 1943, the region to which Lipa belongs – the Liburnian Karst area – was controlled very quickly by the German army, although officially it was still part of the Italian Social Republic under the command of Mussolini. There, the Nazis would have the area of operations on the Adriatic Littoral. For the German army, that region had an important weight, as it was the point through which important communication routes passed. However, the German domain would run into the guerrilla techniques of the partisans, who would be very important in this area especially from the beginning of 1944. Likewise, the local population remained on the side of the partisans since the beginning of the war. They brought them food, supplies and hid their camps in the forest.
On April 30, 1944, the 97 Nazi Army Corps, led by General Ludwig Kubler, entered Lipa killing 296 people. Most of the victims were women, children and the elderly. Their belongings were stolen, and their houses destroyed. This massacre aimed to send a message to the population that collaborated with the partisans: everyone who participates with the partisans will end up like this. For years, the survivors, all those who were outside Lipa at the time of the crimes, lived among the ruins of their homes. It would not be until 1965 when the Lipa Reconstruction Fund was created, which marked the beginning of the reconstruction of the town.
The local community of Lipa understood the need to categorize and protect Lipa as memory space. The first Memorial museum in Lipa was inaugurated in the sixties and worked until 1989, when it was closed due to a lack of funds. During the twenty years that it remained closed, the local community maintained and looked after the museum, showing its permanent exhibition to all those visitors interested in knowing the history of Lipa. The people of Lipa became the main protector of their memorial heritage.
Currently, the Lipa Remembers Memorial Center works together with the local population in the creation of different programs related to the memory space and in the definition of the regional identity that is reproduced in the museum. The objective of the Lipa ecomuseum has been to provide new opportunities for the people and their inhabitants while preserving and protecting the memory of those men and women who fought for freedom.
---
 Collaboration:
Carlota Sánchez Vidal (text)