Antifrancoist activist
EUROM and the platform for the Future Monument of the Women Prison of Les Corts pay a tribute to the antifrancoist activist Isabel Vicente during the

inauguration of an alley in her honor;

The homage will take place on April 12 as part of the commemorative activities organized in Barcelona to remember the proclamation of the second Spanish Republic and will include the third edition of the Memory Bus connecting the memory sites of Camp de la Bota and the former prison of Les Corts.
Isabel Vicente was a textile worker at the factory of La Sedeta, in the neighborhood of Gràcia, Barcelona. She took part in the first clandestine network of the PSUC (Partit Socialista Unificat de Catalunya) once the Civil War ended. In 1940, at age 22, she was sentenced to twelve years in prison and entered the women's jail of Les Corts, remaining there until 1947. Back to the antifrancoism activism, she was detained several times until her last entry to a prison, in 1958 – a pavilion enabled for women in La Model prison.
In 1968, Isabel Vicente participated in the foundation of the Prison Assistance Committee "Solidaridad", and some years later in the Catalan Association of Former Poliitical Prisoners. In 1977, during the first general elections in Spain after dictatorship, she ran for the PSUC in the circumscription of Barcelona. Isabel Vicente died on March 21, 2000.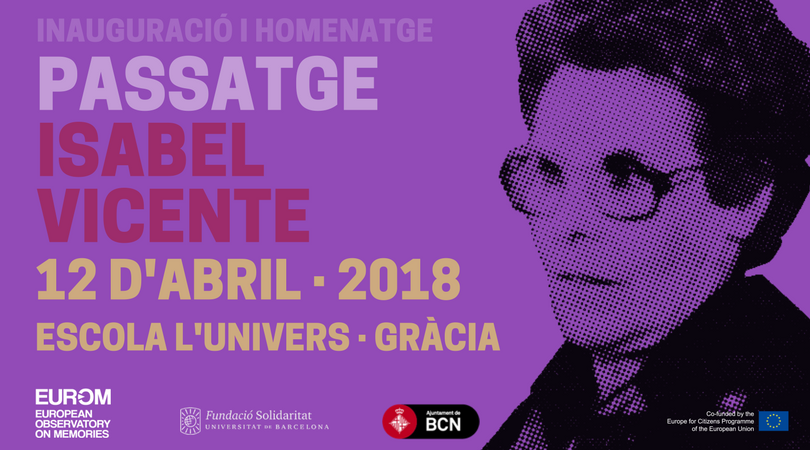 ---
Homenatge a Isabel Vicente
En el marc de les activitats de la Primavera Republicana de l'Ajuntament de Barcelona, l'EUROM i la conselleria Dona i Memòria del Districte de Gràcia organitzen un homenatge a l'activista antifranquista Isabel Vicente, amb la col·laboració de la Comissió Memòria i Gènere i de la Plataforma Futur Monument Presó de Dones de les Corts;
L'acte tindrà lloc el dia 12 d'abril a les 17h30 durant la inauguració d'un passatge en honor a Isabel Vicente i comptarà amb la participació de la seva companya de lluita i amiga Maria Salvo i de l'historiador Fernando Hernández Holgado;
Un grup de dones de la Plataforma pel Futur Monument a la Presó de Les Corts realitzarà una lectura coral de cartes de preses polítiques del franquisme;
L'homenatge comptarà amb la tercera edició del Bus Memòria, que sortirà del Camp de la Bota a les 15h30 amb parades a la Plaça de la República i a l'Espai de Memòria – Dones/Presó de Les Corts, finalitzant el recorregut a l'Escola l'Univers de Gràcia.
AGENDA
Bus Memòria*
15:30h
Parada 1: Camp de la Bota (cantonada de l'Avinguda Diagonal amb la Rambla Prim).
16:00h
Parada 2: Plaça de la República.
16:45h
Espai Dones i Memòries a les Corts (cantonada dels c/ Joan Güell i Europa). Sortida cap a l'Escola l'Univers.
*Aforament limitat. Es requereix inscripció prèvia
 Inauguració
17:30
Escola l'Univers (c/ Bailèn, 229) – Passatge Isabel Vicente
Benvinguda dels representants dels districte de Gràcia i de l'Ajuntament de Barcelona
Descoberta de la placa
Homenatge

18:00
Escola l'Univers (c/ Bailèn, 229)
Salutacions institucionals
Glossa biogràfica d'Isabel Vicente a càrrec de l'historiador Fernando Hernández Holgado,  i de Maria Salvo, amiga i companya de lluita
Lectura de cartes de preses polítiques antifranquistes a càrrec de les dones de la Plataforma pel Futur Monument a la Presó de Les Corts
19:00 – Clausura
---
Sobre Isabel Vicente
Obrera tèxtil de la fàbrica de la Sedeta, al barri barceloní de Gràcia, Isabel Vicente va ingressar en la presó franquista de les Corts el febrer del 1940 juntament amb Maria González, Maria Domènech i les germanes Teresa i Maria Hernández. Tenia vint-i-dos anys i havia participat en la primera xarxa clandestina del PSUC una vegada acabada la guerra. Fou condemnada a dotze anys de presó i va romandre a les Corts fins el 1947.
Reincorporada a la feina militant i detinguda unes quantes vegades, va tornar a les Corts per temporades més curtes: una d'elles, el 1951, per la seva participació sindical en la popular vaga de tramvies de Barcelona. El seu darrer ingrés va ser el 1958. Aleshores ja s'havia desmantellat la presó de les Corts i Isabel fou enviada per uns mesos a un pavelló habilitat per a dones a la presó Model d'homes, quan encara no existia la presó de la Trinitat.
El 1968 va participar en la fundació del Comitè d'Ajuda a Presos "Solidaritat", i alguns anys després en l'Associació Catalana d'Expresos Polítics. En les eleccions generals del 1977 fou candidata del PSUC per la circumscripció de Barcelona. Va morir el 21 de març de l'any 2000.
Font: Presó les Corts
---