November 2020 marks the 25th anniversary of the General Framework Agreement for Peace in Bosnia and Herzegovina, best known as the Dayton Agreement, which ended the Bosnian War (1992-1995), the deadliest armed conflict in Europe since World War II. The agreement marked the end of hostilities but failed to initiate a dynamic of reconciliation or human reconstruction between the different communities. Thus, the door was opened to a clearly dysfunctional country structure that enshrined the division generated by the war itself.
Coinciding with this anniversary, the ICIP, with the collaboration of Clack, CIDOB, EUROM, and with the support of the Generalitat de Catalunya, organizes a cycle of three dialogues to reflect on the current situation in this Balkan country, the degree of compliance with the Peace Accords, the reconciliation process and the initiatives and strategies to promote peacebuilding.
The first session will address the significance of the Dayton Peace Accords and their subsequent development to date, as well as the impact that the humanitarian crisis is currently having on Bosnia as a transit country. In a second session, the cycle will reflect on how the social fabric has been rebuilt and coexistence has been articulated over the years, with an emphasis on victims and the role of civil society. Finally, the last session will recall the solidarity effort of the people of Catalonia with Bosnia, analyzing the potential and limitations of international solidarity and will explore what tools can continue to contribute to building peace and reconciliation in the country.
The cycle will be live-streamed, you can follow the sessions here:
Session 1:
November 11
The Legacy of Dayton
Presentation by Kristian Herbolzheimer (ICIP director)

Speakers
Pere Vilanova, University of Barcelona
Maja Savic- Bojanic, Sarajevo School of Science and Technology
Ruth Ferrero, University Complutense of Madrid
Moderates: Pol Bargués, Cidob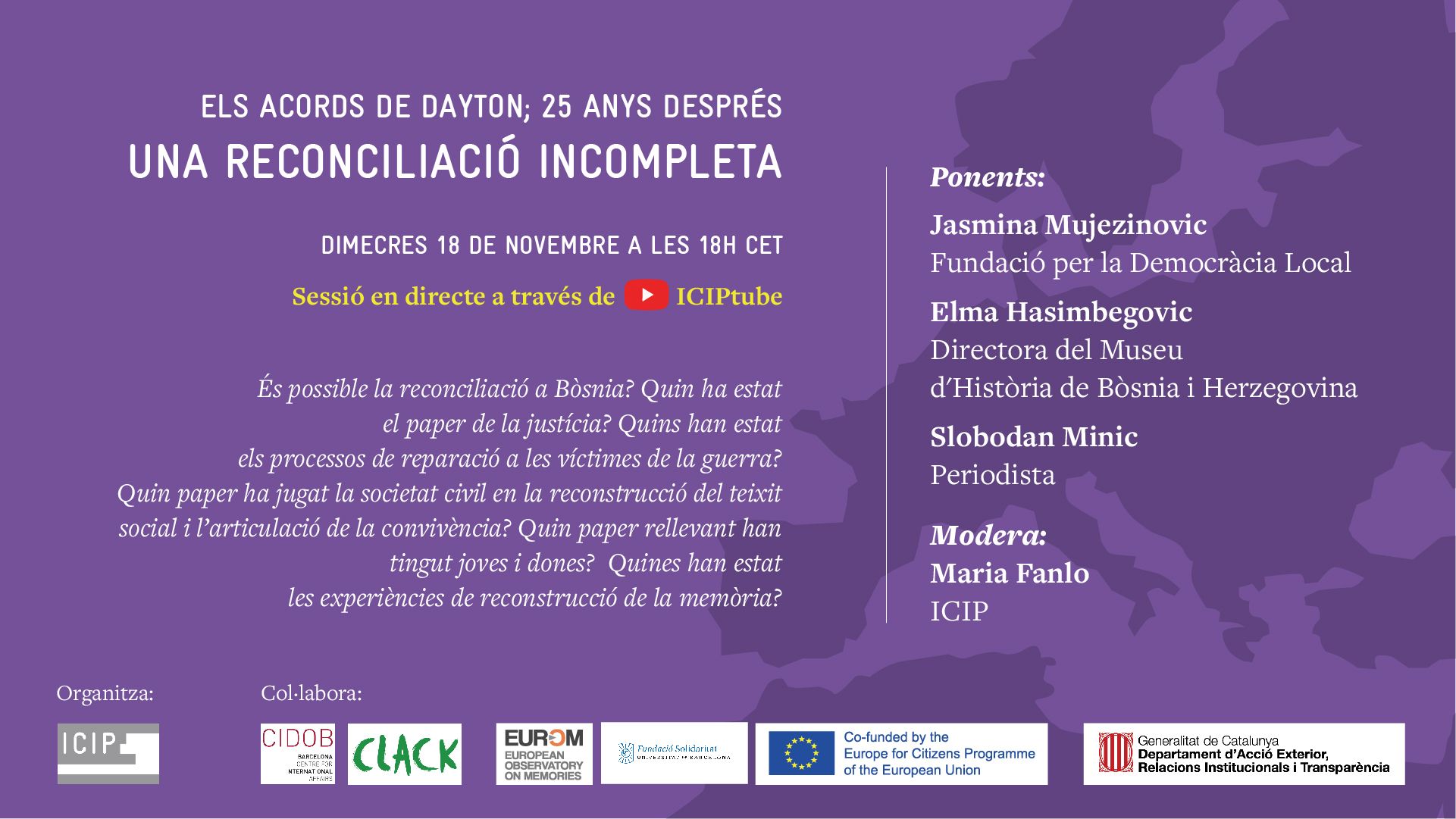 Session 3:
November 25
Cooperation and peace building in Bosnia: 1995-2020

Speakers
Eric Hauck, Head of the Delagation of Catalonia in the Balkans
Alma Masic, expert in cooperation for development in the Balkans
Pol Bargués, CIDOB
Moderates: Joan Salicrú, Clack