The Transition to Democracy in Spain is the subject of important studies on the fields of historiography, political science, sociology and communications that have shown the complexity of this process of becoming a western democracy in the second half of the 20th century.
Currently, it is easy to find comments about this historical period, both praising the process and criticizing its gaps.
This scientific conference aims to analyze how the transition to democracy is represented in the digital arena in order to recognize the way different players create narratives and convey history.
Organized by Hismedi – University Carlos III in collaboration with the Instituto eCyT and the EUROM.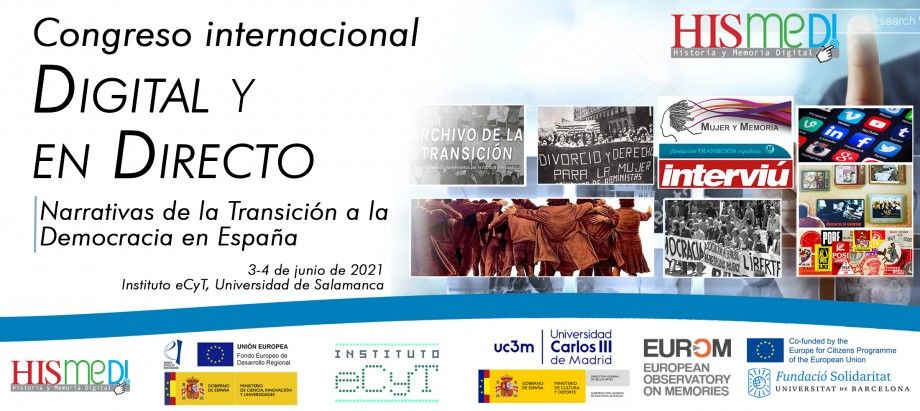 The resources offered by the Internet foster the visualization and analysis of the Transition through different media: websites, videos, social media, blogs, or even media repositories available for the general public. This period's information production makes up first-rate historic evidence both as a historical source but also because it is a subject of study in itself due to its plurality and peculiarity in times of transformation. Thus, the history and memory of the Transition period circulate the digital world with multiple perspectives, transforming its representation into a leading source that identifies official accounts and complex narratives of this historic landmark.
The questions that drive our interest are: How do digital narratives contribute to the knowledge of our recent history and what is their contribution? What aspects of the Spanish Transition awake greater interest amongst content creators and users? What role do digital formats play in the new meanings of Transition? Who are the authors and what sources are they based on? What is the role of historians in the new transfer of historic science "with society"? What is the educational use of those resources and how is the teaching of this period of recent history done?
Confirmed speakers
Registration to the congress: From the 15th of February to the 20th of May. Online form Fees: € 40 for general registration, € 20 for doctoral students and unemployed people. In the case of papers with several authors, all signatories must be registered. Online payment of registration.
---
Agenda
June 3, 2021
9.30 – 9.45 am. Opening session. Academic authorities. Venue: Presentations Room
10.00-11.15 am. Conference: Archives, methods and digital research techniques, Stefanía Gallini (Universidad Nacional de Colombia), José Luis Hernández (Deputy Director of the CDMH Archive) and Javier Fito (Director of the CDMH Library). Chaired by; Anaclet Pons
11.30. – 1.30 pm. Presentation of papers. Chaired by; Carlos García Figuerola.
4.00.- 5.15 pm. Panel The Transition; events that shaped an era Carme Molinero (Universitat Autónoma de Barcelona) and Sophie Baby (Université de Bourgogne Franche-Comté, France). Chaired by; Encarnación Barranquero. Venue: Presentations Room.
5.30.- 7.00 pm. Presentation of papers. Chaired by; Sergio Gálvez
June 4, 2021
9.30 – 10.30 am. Round table: The media and the transfer of recent history. Ana María Pascual (Interviú and Público.es), Charo Zarzalejos (La Gaceta del Norte de Bilbao), and Raimundo Castro (El Periodico de Catalunya). Chaired by; Mariola Moreno. Venue: Presentations Room.
11.00 -11.45 am. Conference: Fernando Hernández Sánchez: On-line materials to study (or teach) the Present History of Spain.  Chaired by; Francisco J. Rodríguez Jiménez. Venue: Presentations Room.
11.45 am -2.00 pm. Presentation of papers. Chaired by; Pedro Paniagua.
4.00 – 5.30 pm. Round table Transition processes in the trans-European landscape.  Francisco Martinez (University of Tallin), Manuel Loff (University of Porto), Kostis Kornetis (University of Athens). Chaired by; Paola Lo Cascio (Universitat de Barcelona)
5.30 – 7.30 pm. Presentation of papers. Chaired by; Paola Lo Cascio (Universitat de Barcelona)
8.00 pm. Closing ceremony Venue: Presentations Room.