This roundtable is the final activity of the transnational project Forced. Portuguese and Spanish Forced Laborers under National Socialism: History, Memory and Citizenship, and marks the presentation of the travelling exhibition "Portuguese and Spanish Workers in the Third Reich (1940-1945)", open at the University of Paris 8 until April 21, 2023. The round table will focus on the transmission of the Holocaust to younger generations and will gather experts, civil society representatives and politicians from Portugal, Spain, Germany, and France.
---
New date to be announced
This activity would take place on March 22, 2023, and was postponed due to the current social mobilizations in Paris.
2 p.m. Welcoming of guests
2:15 – 2:30 p.m.
Opening of the exhibition Portuguese and Spanish Workers in the Third Reich (1949-1945)
Introduction by Annick Allaigre, rector of the University of Paris 8, followed by interventions by:
Fernando Rosas, coordinator of the project Forced
Fernando Martínez López, Secretary of State for democratic memory (Spain)
Augusto Santos Silva, President of the Assembly of the Republic (Portugal)
Bénédicte Durand, Deputy Rector (to be confirmed)
2:30-3:15 p.m. Guided tour of the exhibition
3:15-5:30 p.m.
Round table "Painful memory and citizenship"
Juan M. Calvo, President of the Amicale de Mauthausen (Spain)
Paulo Marques, President of the Association of Civica (France-Portugal)
Fernando Rosas, Emeritus Professor at the Universidade Nova from Lisbon, coordinator of the Forced project
Kerstin Hofmann, Arolsen Archives (Germany)
Serge Wolikow, President of the Foundation for the memory of the deportation
Fernando Martínez López, Secretary of State for democratic memory (Spain)
Augusto Santos Silva, President of the Assembly of the Republic (Portugal)
Discussion with the participants
5:30 p.m. Opening cocktail
---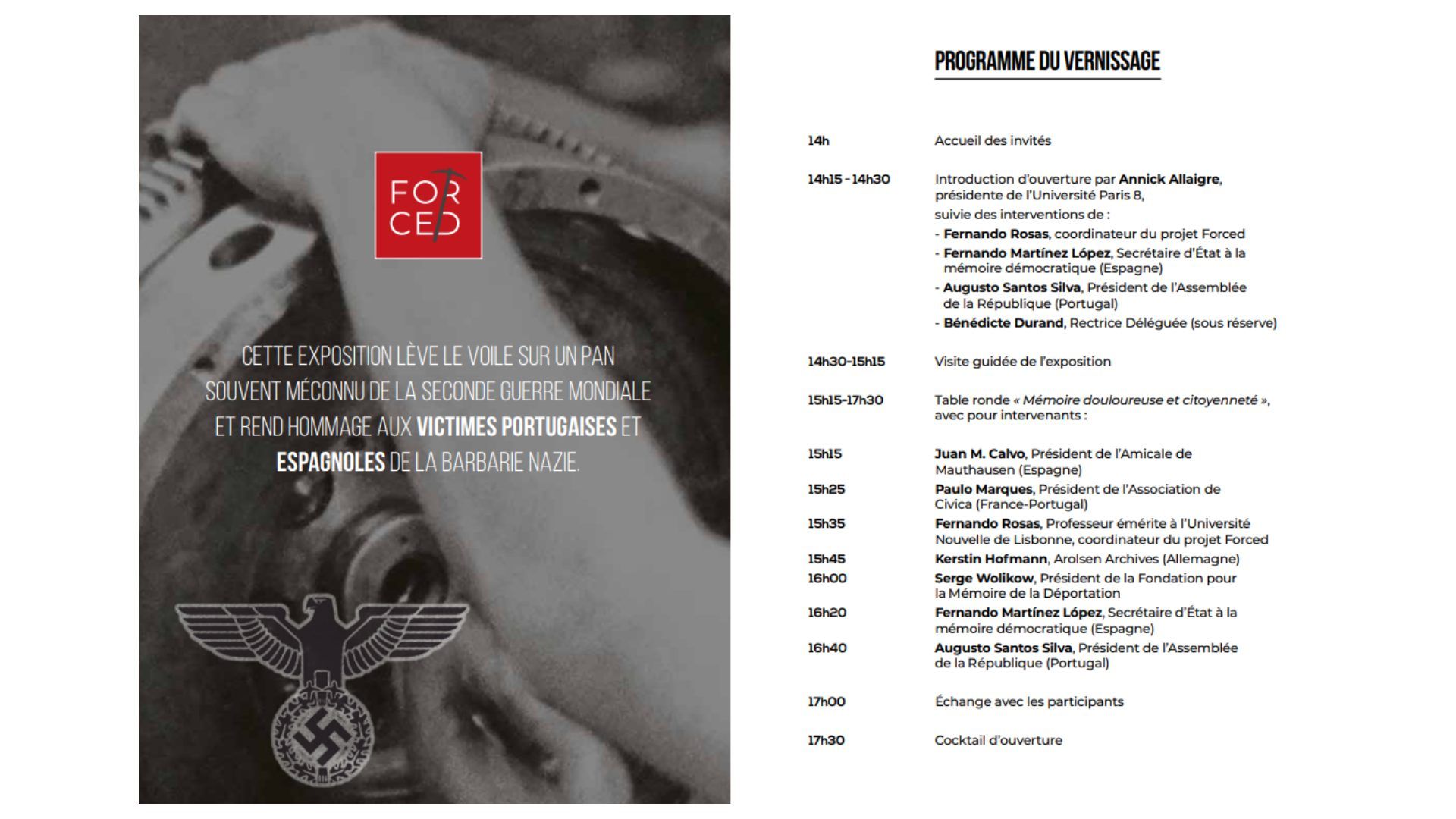 ---
Related project
Related exhibition
Related activity