International Holocaust Remembrance 2019
Denial is a rhetorical device endowed with an internal logic, a repertoire of recurring motifs, and an arsenal of argumentative techniques designed to sow doubt about the reality of Nazi extermination. But a rhetorical device does not act in a vacuum. It would not exist, if not in the minds and speeches of a limited number of people, without a receptive audience, without a cultural system willing to welcome him, if only to blame or censor it. (Pisanty, "Négationnisme et concurrence des victimes") 
The semiologist Valentina Pisanty (University of Bergamo, Italy) will deliver the keynote "Denials, sacralizations and banalization of the Holocaust" on the occasion of the International Holocaust Remembrance Day in Barcelona. Her presentation will be followed by the screening of the fictional documentary "Naturaleza Muerta", a short movie by Carolina Astudillo which highlights the relationship between morale and survival in times of war. The director will further introduce her current work in progress, "Canción a una dama en la sombra" (Song for a lady in the shade), a feature film inspired by stories of women who started a new life when the Second World Wars began.
Organized by the EUROM in the framework of the programming for the International Holocaust Remembrance Day promoted by the Commissioner of Memory Programs of the City Council of Barcelona.
Attendance to the activity is free, but previous registration is required.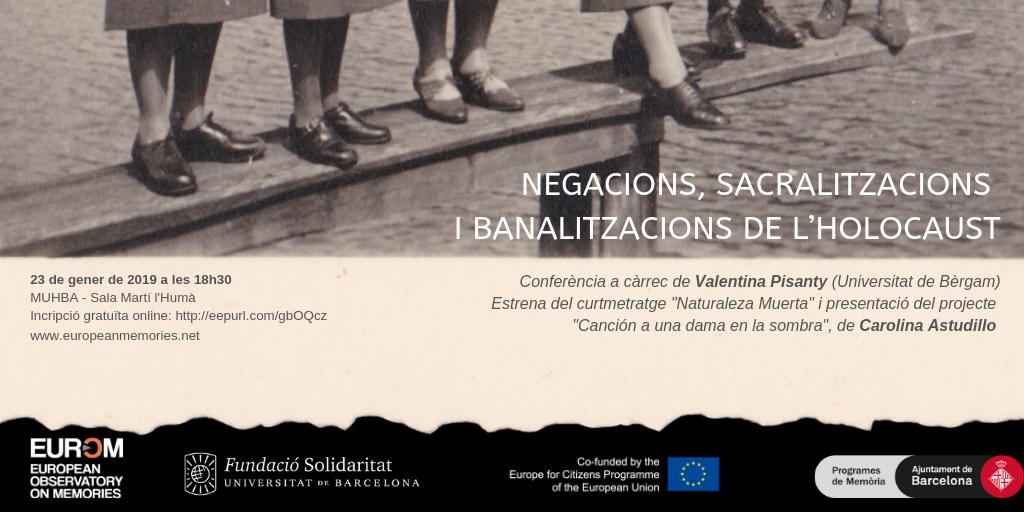 18h30-18h45
Institutional opening
18h45-19h45
Keynote and debate: Denials, sacralizations, and banalization of the Holocaust
Valentina Pisanty, Semiologist, a professor at the University of Bergamo.
19h45 – 20h30
A premiere of the short fiction documentary Naturaleza Muerta (2018), and presentation of the project Canción a una dama en la sombra, with the presence of the director Carolina Astudillo
---
La negació és un dispositiu retòric dotat d'una lògica interna, un repertori de motius recurrents i un arsenal de tècniques argumentatives dissenyades per sembrar dubtes sobre la realitat de l'extermini nazi. Però un dispositiu retòric no actua en un buit. No existiria, si no en les ments i discursos d'un nombre limitat de persones, sense una audiència receptiva, sense un sistema cultural disposat a donar-li la benvinguda, només per culpar-lo o censurar-lo.  (Pisanty, Négationnisme et concurrence des victimes)
PROGRAMA
18h-18h30
Registre de participants. L'activitat és gratuïta, però es demana inscripció prèvia online.
18h30 – 18h45
Benvinguda institucional
18h45-19h45

Conferència: Negacions, sacralitzacions i banalitzacions de l'Holocaust
Valentina Pisanty, Semiòloga, professora de semiologia a la Universitat de Bèrgam.
Estudiosa del negacionisme de l'Holocaust i del racisme, Valentina Pisanty és coordinadora editorial d'Accepting Diversity, un manual interactiu sobre la tolerància nascut d'un projecte d'Umberto Eco, Furio Colombo i Jacques Le Goff i de l'Académie Universelle des Cultures. Ha escrit assajos sobre semiòtica interpretativa, sobre el conte de fades, sobre el discurs polític, sobre la retòrica del racisme i sobre la memòria. Entre les seves publicacions destaquen Lectura del conte de fades (Bompiani 1993), Semiòtica i interpretació (amb Roberto Pellerey, Bompiani, 2004), La defensa de la raça: Antologia 1938-1943 (Bompiani, 2006), Semiótica (amb Alessandro Zijno, McGraw-Hill , 2010), Abús de memòria (Bruno Mondadori, 2012) i La qüestió irritante de les cambres de gas: la lògica del negacionisme (Bompiani, 1998, edició revisada i ampliada, 2014).
19h45 – 20h30

Estrena del curtmetratge de docu-ficció Naturaleza Muerta, i presentació del projecte de llargmetratge Canción a una dama en la sombra, amb la preséncia de la directora Carolina Astudillo
Realitzadora, investigadora i docent, Carolina Astudillo desenvolupa el seu treball en la investigació, la creació documental i l'escriptura tenint com a eix articulador a les dones i la memòria històrica. El seu primer llargmetratge, El gran vuelo (2014), va obtenir la Biznaga de Plata al Millor Documental al Festival de Màlaga (2015); el Premi Ferotge Porta Fosca al Millor Documental, atorgat per l'Associació d'Informadors Cinematogràfics d'Espanya (AICE); els premis al Millor Migmetratge Documental en Abastos; Millor Muntatge en Sole Luna Doc Film Festival i Millor Documental a Som Cinema. Per aquesta obra, la directora va ser triada Millor Realitzadora per l'Associació de Dones Cineastes i de Mitjans Audiovisuals (CIM). El seu segon llargmetratge, Ainhoa, yo no soy esta (2018) novament va obtenir la Biznaga de Plata al Millor Documental al Festival de Màlaga (2018) i el Premi al Millor So i una Menció Especial del Jurat en DocumentaMadrid (2018). Des 2016 és membre de l'Acadèmia d'Arts i de les Ciències Cinematogràfiques d'Espanya (AACCE).
Naturaleza Muerta (Espanya, 2018 / 05:35 min. / Color) és un docu-ficció que posa de relleu la relació entre la moral i la supervivència en temps de Guerra. Freud va descriure al sinistre (unheimlich) com una vivència contradictòria on el cas estrany se'ns presenta com conegut i el conegut es torna estrany. Una néta descobreix que el passat de la seva àvia era molt diferent al que li havien explicat. Serà que en temps de Guerra la moral queda supeditada a la supervivència?