The traveling exhibition Deconstructing Francoism will be displayed in Santiago de Compostela as a space for reflection about the symbology of Franco's dictatorship in Galicia;

The new assemblage of the container is curated by Lourenzo Fernández Prieto and Antonio Miguez Macho, by Histagra;

It highlights photographic pre-productions of Francoist spaces and symbols that last or were forgotten by the citizens of Santiago de Compostela and interactive cartography that reveals the places of death and burial in Galicia during the civil war;

The opening of the exhibition will take place on January 23 at 12 pm and the exhibition will be on display

at the Paseo Central da Alameda until February 06.
Cover picture: Praça do Obradoiro, 1938. Conmemoración de la Unificación de Milicias. El Eco fransciscano.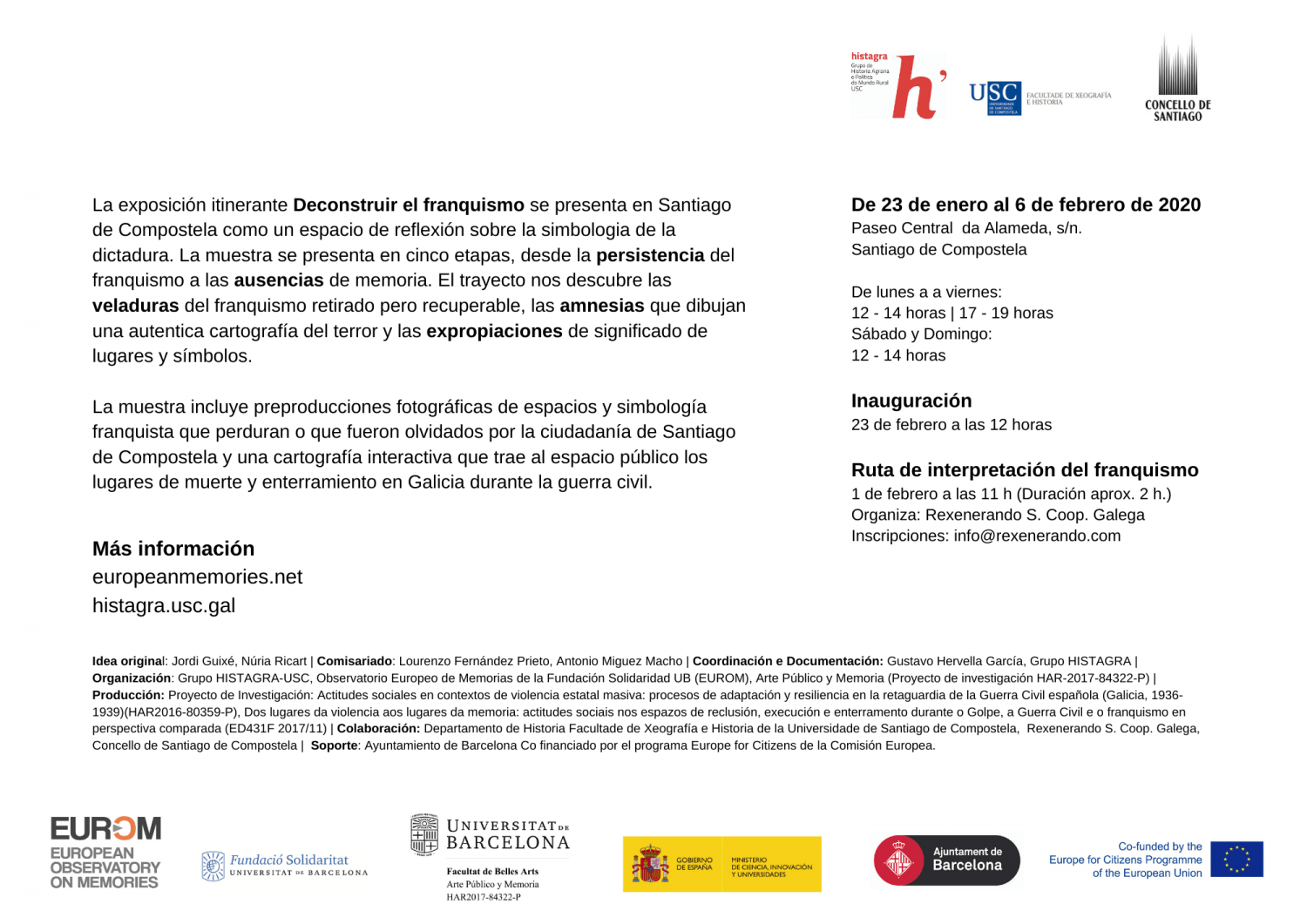 Original idea: Jordi Guixé, Núria Ricart | Comissioners: Lourenzo Fernández Prieto, Antonio Miguez Macho | Coordination and documentation: Gustavo Hervella García, Grupo HISTAGRA | Organization: EUROM,  HISTAGRA-USC, project Public Art and Memory (HAR-2017-84322-P) | Production: Reasearch project "Actitudes sociales en contextos de violencia estatal masiva: procesos de adaptación y resiliencia en la retaguardia de la Guerra Civil española (Galicia, 1936-1939)(HAR2016-80359-P)", "Dos lugares da violencia aos lugares da memoria: actitudes sociais nos espazos de reclusión, execución e enterramento durante o Golpe, a Guerra Civil e o franquismo en perspectiva comparada (ED431F 2017/11)" | Colaboration: Departamento de Historia Facultade de Xeografía e Historia de la Universidade de Santiago de Compostela, Rexenerando S. Coop. Galega, Concello de Santiago de Compostela | Support: City Council of Barcelona, Ministry of Science, Innovation and Universities, FEDER Galicia. Co-Funded by the programme Europe for Citizens of the European Commission