Cultural programme | Neruda's boat
"Boleto de ida" (One-way ticket)  is an individual exhibition by the visual artist and illustrator Cecilia Zabaleta, the granddaughter of one of the 2.200 refugees who arrived in Valparaíso, Chile, on the emblematic ship Winnipeg organized by Pablo Neruda at the end of the Spanish Civil War;
Curated by Roberto Fuertes, the exhibition will be on display at the Casa de la Barceloneta 1761 from December 9, 2021, to February 19, 2022, within a cultural programme about Neruda's boat organized in collaboration with the European Observatory on Memories and the Councilorship for Democratic Memory of the City of Barcelona;
The programme also includes a workshop

on mediation and collective artistic creation given by the artist,

and the performance of a sketch of the theatre play "Winnipeg", produced by La Jarra Azul and Puça Espectacles.
---
Agenda
December 9 – 7 pm
Opening of the exhibition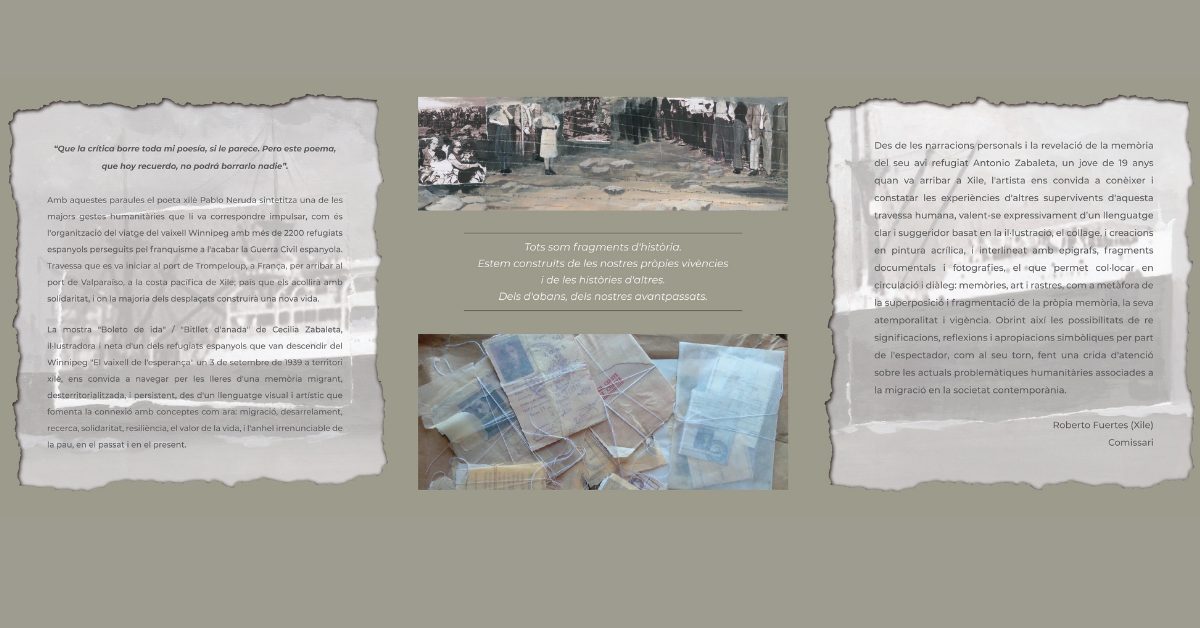 With the participation of Cecilia Zabaleta (artist) and Roberto Fuertes (curator)
December 16 – 7pm
Workshop "The streams of memory"

Collective artistic creation workshop aimed at young people over 16 years of age and adults without age limits.
Mediation activity delivered by Cecilia Zabaleta. 
Free activity with limited places. Further information and registration at [email protected]
December 21 – 7 pm
Dramatized reading  Winnipeg

Cast: Laura María González, Laia Alberch, Martí Salvat, Eduard Tudela | Direction: Norbert Martínez
The performance will be followed by a round talk with Lola Patau, a Winnipeg traveler, and Verónica Aranda, granddaughter of Chilean Minister Abraham Ortega, Winnipeg promoter.

Free activity with limited places. Further information and registration at [email protected]