Recognising the memory of the former women's prison of Les Corts is a long and complicated process, led by different groups and associations and in which the collection of testimonies from directors and family members has been essential. This process has resulted in various publications and, more specifically, the development of an online memorial space hosted on presodelescorts.org
A new phase was launched in 2012, with the definition of a set of monumentalisation proposals developed through the Urban Design Masters at the University of Barcelona and coordinated by the art, city, society Research Group (UB), the EUROM Observatory (UB Solidarity Foundation) and the Acme association.
This was the starting point for an inclusive process carried out in collaboration with neighbourhood associations, women's groups and other entities in the Les Corts district in order to promote the construction of a Monument commemorating the women who were victims of this institution during the Franco dictatorship.
To mark the 14th of April, -date of the enactment of the Spanish Second Republic-, we invite you to join us in this tribute to the imprisoned women – and their children – former inmates of the Women's Prison of Les Corts. The event will take place in the memory space that has been dedicated to the former inmates of the prison since November 2014, at the northwest intersection of Joan Guëll st. and Europa st.  in Barcelona.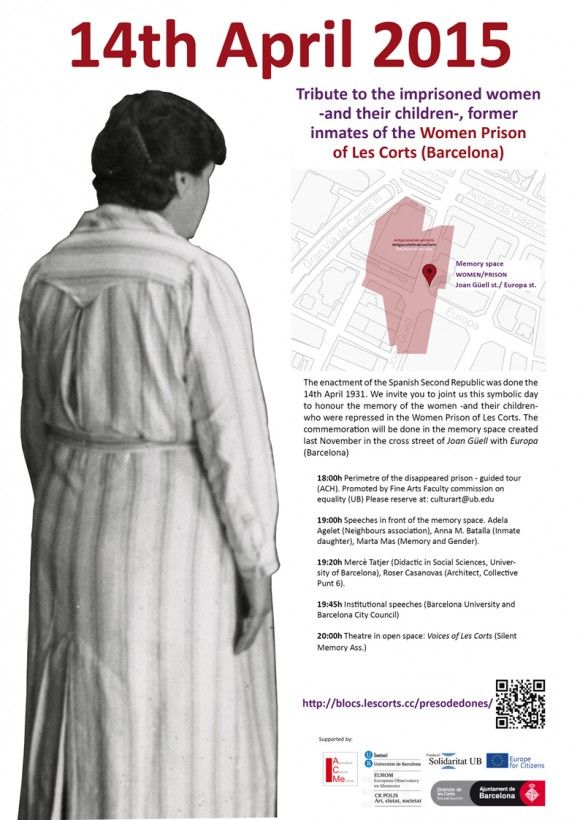 ---