The EUROM – Fundació Soildaritat UB has been involved in the co-production of the doc-fiction hybrid "Canción a una dama en la sombra" (Song to a lady in the shadow) since 2019;

The feature film is inspired by stories of numerous women who were forced to start a new life at the beginning of the Second World War;
Produced by Cornelious Films, the movie is the third feature outing of director Carolina Astudillo and was released in 2021 by Catalan Films in professional markets such as Documenta Madrid 2021, Málaga Work in progress, European Film Market – Berlinale, and Marché du fillm in Cannes;
It will be showcased to the general public in March 2022 during the 25th edition of the Festival de Málaga.

---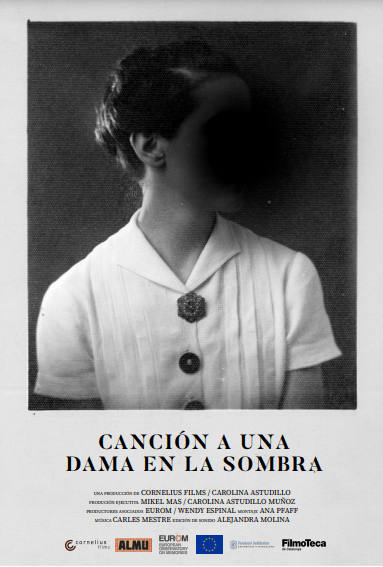 About the movie

After fighting on the Republican side during the Spanish Civil War, a man goes into exile in France. His wife stays with his children waiting for him in a Catalan town, and she goes to work in a factory to support her family. He writes numerous letters to her, but the years go by and he does not return. A Greek choir recounts stories of the many Penelopes who did not succumb to the trap of the loom and wait impassively after the civil war.
A doc-fiction hybrid, it turns on a family whose father is exiled in France after fighting for the Republican government during the Spanish Civil War. Echoing Homer's Penelope, his wife stays behind with their children in a Catalan village suffering hunger, deprivation, economic crisis and unemployment
About the director
Director, journalist, researcher, and teacher, Carolina Astudillo has a degree in Film Studies from the Catholic University of Chile and a Master's in Creative Documentary from the Autonomous University of Barcelona. She has developed her work in research, documentary creation, and writing, having women and historical memory as the articulating axis. Her works oscillate between experimental cinema and documentary and have been exhibited in museums and educational institutions. Her feature film Ainhoa, yo no soy esa (2018), won the Silver Biznaga for Best Documentary at the Malaga Film Festival (2018), the Grand Jury Prize at Escales Documentaires (2018), and the award for Best Sound and Jury Special Mention at DocumentaMadrid (2018). Her debut feature film, El gran vuelo, was awarded Best Documentary at the Malaga Festival, Festival Alcances, and Premios Feroz.  Since 2016 she has been a member of the Spanish Academy of Cinematographic Arts and Sciences (AACCE).
---
Related links and publications
Canción a una dama, by euromemories
---
D

ata sheet
Lenght: 112′
Languages
:
Spanish, Catalan, French – Subtitles in Spanish and English
Direction: Carolina Astudillo | Script: Carolina Astudillo |  Photography: Américo Aytán |  Film editing: Ana Pfaff | Sound: Alejandra Molina |  Music: Carles Mestre Ubach | Production: Mikel Mas Bilbao | Executive Producer: Cornelius Films / Carolina Astudillo | Associated Producer:  EUROM – Fundació Solidaritat UB / Wendy Espinal