The Paranimf room of the University of Barcelona will host a performance of "Winnipeg" in solidarity with Ukrainian refugees;
By buying a ticket you will help fund UNHCR assistance to the more than 13 million refugees and displaced people by the conflict in Ukraine;
The function organized by the UB Solidarity Foundation will be held on Tuesday, May 24, 2022, at 7 p.m and the tickets are on sale at a minimum price of 10 euros.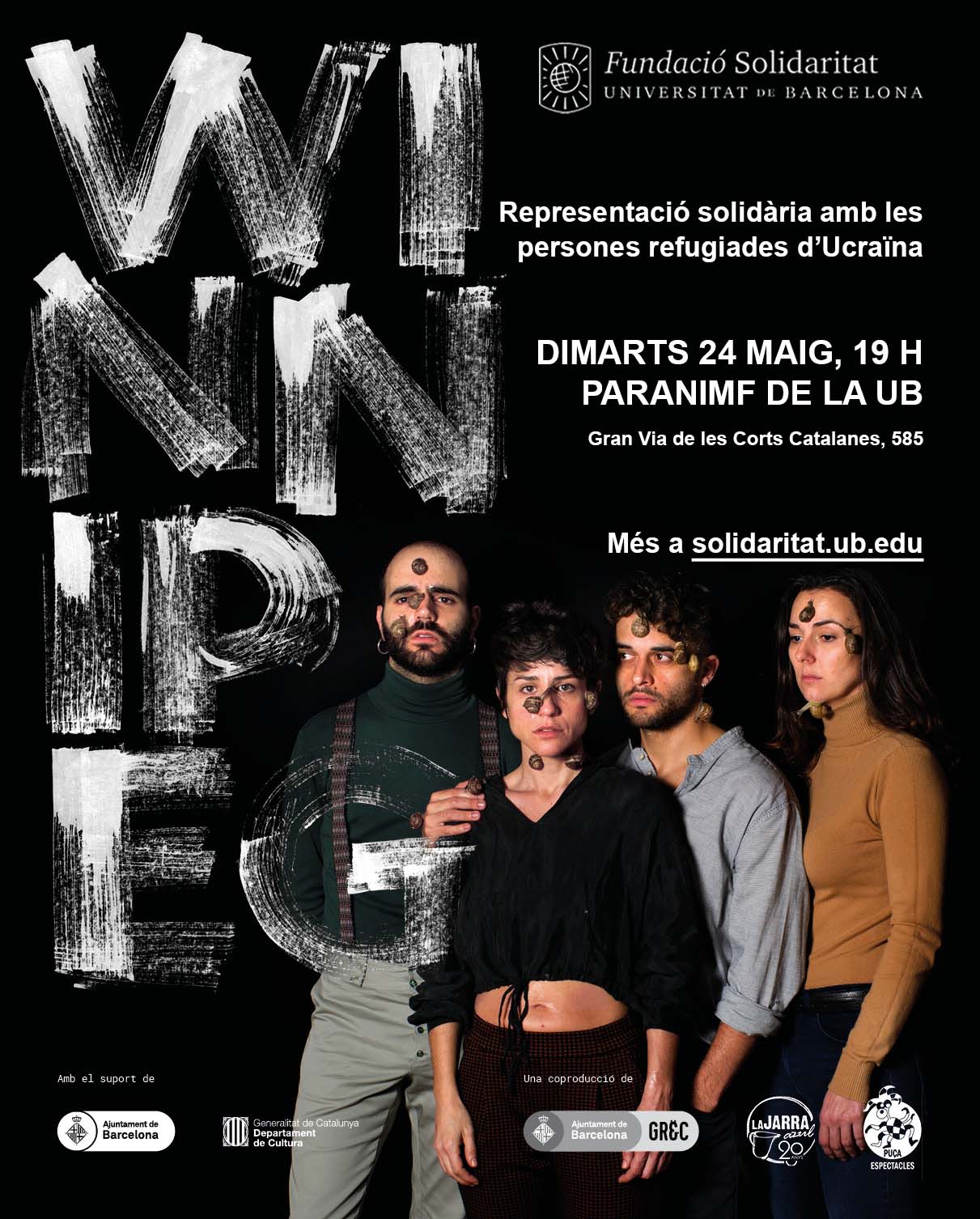 In 1939, more than 2,000 refugees from the Spanish Civil War went into exile in Chile aboard the ship Winnipeg in search of a new life. Today, more than 5.8 million people in Ukraine have sought refuge abroad due to the war shaking the country. More than 7.7 million Ukrainians have been forced to move within their borders.
As part of the UB Refugee Support Program and, in particular, the actions to support the Ukrainian population affected by the conflict, the Solidarity Foundation of the University of Barcelona is organizing a solidarity show of the play "Winnipeg" – on the history of 2,200 Spanish Republicans in exile in Chile – with the aim of raising funds for UNHCR (the UN Refugee Agency) to provide assistance, protection, and assistance to Ukrainian refugees.
The theatrical production, co-produced by Puça Espectacles, La Jarra Azul, Grec 2020 Festival de Barcelona, and the EUROM, ​​will be performed on May 24, 2022, at 7 pm, in the Paranimf Room of the University of Barcelona. Tickets will have a minimum price of 10 euros. The proceeds from the sale of localities will go to UNHCR's humanitarian emergency programs for more than 13 million refugees displaced by the war in Ukraine.
---
The Chilean government appointed the poet Pablo Neruda as Special Consul for Spanish Immigration in France, and in 1939 he chartered the ship Winnipeg to help escape more than 2,000 Spanish Republicans who lived in exile in the neighboring country. "Let the critique erase all my poetry if you like. But this poem, which I remember today, will not be erased by anyone ", wrote Neruda about that asylum action of the Chilean government, led by Foreign Minister Abraham Ortega, which changed the lives of thousands of refugees and their descendants.
"'Winnipeg' is part of the darkness, horror, and human cruelty but ends up illuminating a path where the hope of a better world is possible," says Norbert Martinez, director of the play, an adaptation of the graphic novel by Laura Martel. Both works give voice and memory from a current perspective to the story of all the exiles whom someone called "the children of Neruda."
---
Cast
Laia Alberch
Laura María González
Martí Salvat
Edu Tudela
Artistic details
Play script: Laura Martel
Director: Norbert Martínez
Sound design: Nacho López
Stage design: Anna Tantull
Costume design: Maria del Mar Grañena Serradell
Lighting: Yuri Plana
Audiovisual design: Clara Guixé i Viedma, Núria Planes Llull, Jordi Soler Quintana
Conceptual art: Òscar Climent
Production director: Òscar García Recuenco
Production assistant: Marina Guarch
Technical Assistant: Jofre Toledano
Assistant director: Diana Díaz i Eduard García Oñate
Photography: Cristina Raso
Video: Arnau Macià
Graphic design: Mancha