The first Public History seminar about women's prisons under the Franco regime will go through the case of Madrid's Ventas prison (1931-1969). The three-day activity was designed as an introduction to the research on oral and written sources and in the theory of public history. It is part of the multilayered project about the memory of the disappeared prison of Ventas. Originally conceived as a "Model Prison" for women by Victoria Kent, with the Francoist triumph, the place ended up becoming the opposite: a gigantic "warehouse for female inmates" in which women and children were crammed into the worst conditions imaginable.
Coordinated by the professor Fernando Hernández Holgado of the University Complutense of Madrid and organized in collaboration with: Rosa Luxemburg Foundation, Herstóricas, La Atenea, Wikisfera, Kollontai Group, Museum of Popular Arts and Traditions – Autonomous University of Madrid, Angel Llorca Foundation, Public History Association,  University Complutense of Madrid, and the EUROM – University of Barcelona's Solidarity Foundation.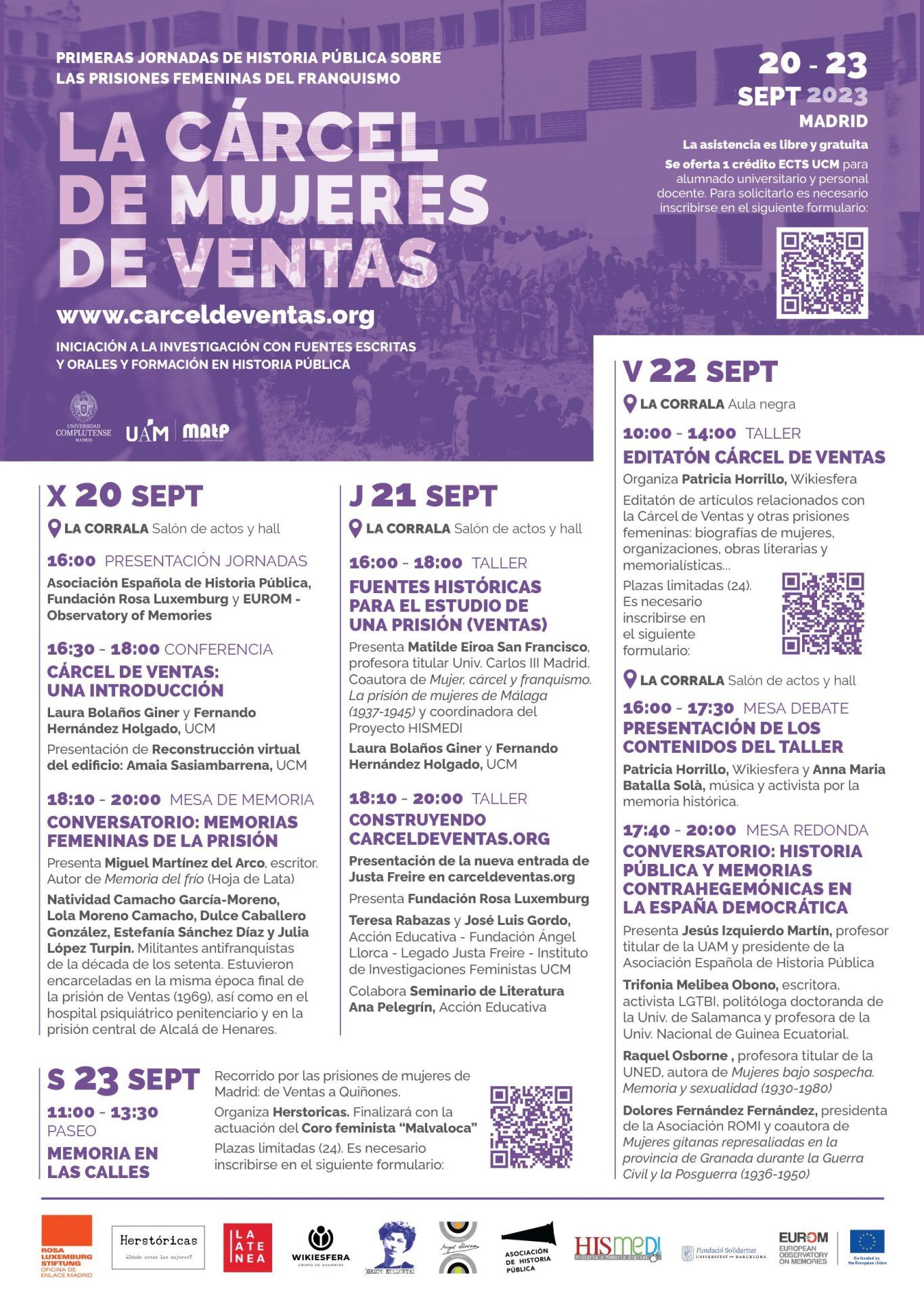 Goals
Disclose historical knowledge about what was the most populous women's prison during the Franco dictatorship through conferences and plenary tables made up of researchers and former prisoners from its last stage.
Train university students, teachers and the public in research techniques with written and oral documentary sources about the Ventas prison, through theoretical-practical workshops led by specialized researchers.
Train activists and the public in history techniques and public memory related to the female prison experience during the Franco regime, through practical workshops -Wikipedia editathon- and historical-memorial tours.
---
---
Image:  Procession of Corpus Christi in the Ventas prison, 1939. ARCM. Santos Yubero Foundation.
---
Related project
Memory of the Women Prison of Ventas (Madrid)