The challenges of memory policies
A group of 28 experts will gather in Barcelona and Portbou from November 27 to 30 to debate the concepts of fascism, new 

reactionism

, authoritarianism and populism by analyzing political projects that have taken or are taking this way;

Likewise, they will relate these political phenomenons to the role that they can play in the media, social networks, education, and public policies of memory;

The seminar will conclude with the music performance "The Last Way of Walter Benjamin" by the Berliner artist Juliane Heinemann.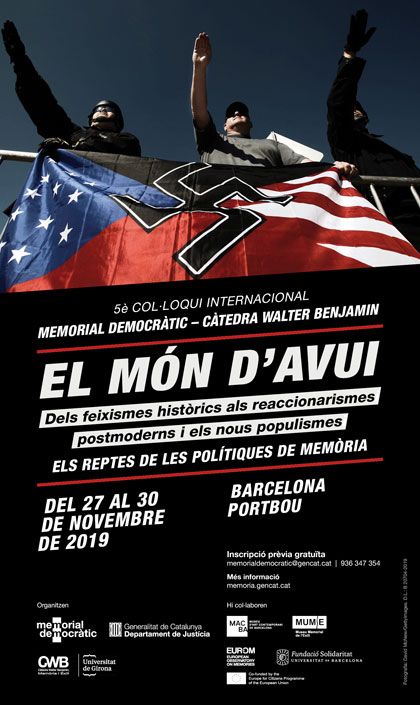 These global phenomenons affects almost all countries under liberal democracies, each one with their characteristics related to their history or the political and economic context. A standard ranging from the United States, the United Kingdom, Hungary, Italy, Germany, Austria, Finland, and Spain to Nicaragua, Brazil, Venezuela, Russia, Turkey, India or the Philippines. A general trend, undoubtedly, with a dynamic capacity of expansion and unforeseen consequences.
What is the relation of the media ecosystem and social media – often conceptualized as masses self-communication –in the proliferation of these political options and in the ways of understanding them is one of the key questions to be made. Also of great relevance is to ask about the role of public memory policies in the face of the rise of these political ideals that threaten individual and collective freedoms, and the same liberal democracy. Are the guarantees of non-repetition insured? What is the transcendence of historical distortions and manipulations, or the banalization of attitudes and political concepts, inherited from a recent past stuck with violent and traumatic episodes?
Speakers
Donatella Di Cesare


Sapienza University of Rome, Department of Philosophy

Maximiliano Fuentes
University of Girona, Director of the Walter Benjamin Lecture
Carme Molinero,


Autonomous University of Barcelona (UAB), Department of Modern and Contemporary History

Antonio Costa Pinto
University of Lisbon, Institute of Social Sciences, and ISCTE – Lisbon University Institute
Xavier Casals
University Ramon Llull, Department of Contemporary History
Paola lo Cascio
University of Barcelona, Department of Contemporary History
Gemma Ubasart
University of Girona, Department of Public Law
Albert Chillon


Autonomous University of Barcelona (UAB),

Director of the MA in Communications, Journalism and Humanities
Montserrat Nebrera
International University of Catalonia (UIC), Department of Constitutional Law
Álvaro Soto Carmona
Autonomous University of Madrid (UAM), Department of Contemporary History
Marta Rovira Martínez
Autonomous University of Barcelona (UAB), Director of Fundació Congrés de Cultura Catalana
Francesc Marc Álvaro
Journalist
Pere Ysas
Autonomous University of Madrid (UAM), Department of Modern and Contemporary History
Joan Maria Thomas
University Rovira i Virgili, Department of Contemporary History
Èric Fassin
University Paris 8 Vincennes–Saint-Denis, Department of Sociology
José Maria Lassalle
Writer
Jens-Christian Wagner
Historian, Director of the

Stiftung Niedersächsische Gedenkstätten (

Foundation of Lower Saxony Memorials

).
Montserrat Duch
University Rovira i Virgili, Department of History and History of art
Jordi Guixé
Historian, Director of the European Observatory on Memories (EUROM)
Ricard Vinyes
University of Barcelona, Department of Contemporary History ¡
Aintzane Ezenarro
Director of the Institute of Memory, Coexistence and Human Rights of the Basque Country  (Gogora)
Francisco Javier Giráldez
Historian, former Director of Democratic Memory of Andalusia
Josep Ramoneda
Journalist, philosopher and writer
Agnès Sajaloli
Director of the Memorial of the Camp of Rivesaltes
Moderators