Annual meeting of remembrance projects
Memory is a value that contributes to increasing the quality of democracy in our societies;
The fragility and vulnerability of its uses in the present make us believe that the processes of transmission and interaction must be constantly done together with the citizenry;
This meeting will gather projects selected under Europe for Citizens  programme in 2018 and 2019 with the aim to debate the policies of the past in Europe and how to enhance them;
It is jointly organized by the Jean Monnet House/House of European History, the European Observatory on Memories (EUROM) and the European Commission in cooperation with the Education, Audiovisual and Culture Executive Agency (EACEA).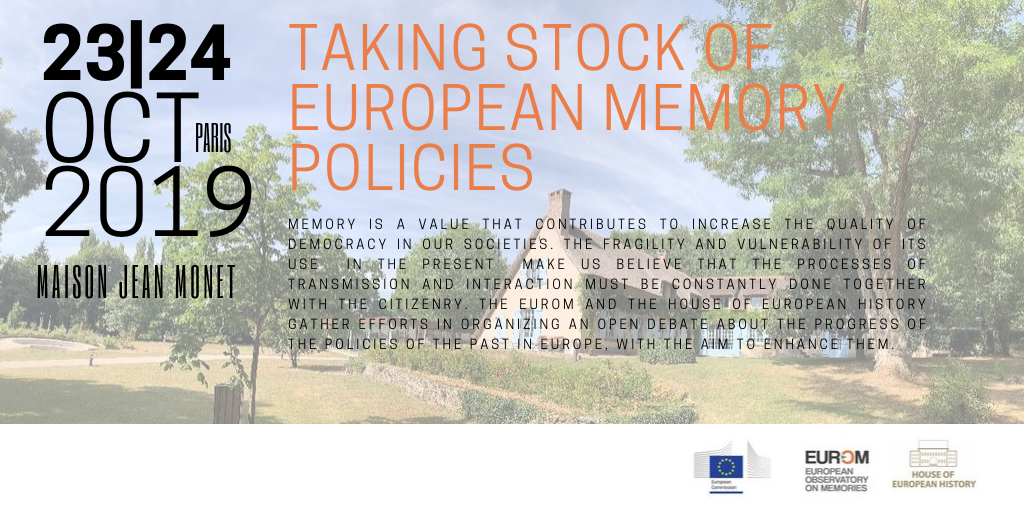 #EuromemoriesTS2019
---
Programme
October 23
Hotel Melià La Defense | Paris
17:45   Registration
18:15    Welcome
Baudouin Baudru, Chef ff de la Représentation de la Commission européenne en France
Isabelle Coustet, cheffe du Bureau en France du Parlement européen
Teemu Tanner, Ambassador of Finland in France, Member state holding the presidency of the Council of the European Union
18:20 Introduction
The importance of remembrance in European policies
Oriol López, European Observatory on Memories (EUROM)
Angela Cristea, European Commission
18:50 Movie screening
"1948-2018: réveil de la Guerre froide?"
Documentary film (subtitled in English) introduced by its director, André Bossuroy, MEDIEL asbl
19:30     Networking and walking dinner
October 24
The Jean Monnet House | Bazoches-sur-Guyonne
7:45       Joint departure from Paris to Bazoches-sur-Guyonne (Bus transportation will be provided)
9:00        Welcome address, presentation of the objectives and the programme of the day
Martí Grau, The Jean Monnet House/The House of European History; Marie Corman, European Commission
9:15        Roundtable: Challenges of the European public memories
Participants: Sarah Gensburger (CNRS);  Markus Prutsch (European Parliament)
Chair: Ricard Conesa, EUROM
10:15     Implementing projects supported by the 'Europe for Citizens' programme – a few guidelines, questions and answers
Gilles Pelayo, Education, Audiovisual and Culture Executive Agency
11:00     Coffee break
11:15     Workshops
How to involve young people in remembrance activities?
What are the best ways for cultural heritage projects to link past and present and address issues such as racism, genocide, and intolerance?
How to approach the past from multiple perspectives, deal with conflicting memories and develop citizens' critical judgment?
What role can citizens play in designing remembrance activities (e.g. exhibitions, conferences, debates, theatre plays, concerts) to make them interactive and innovative?
13:15     Lunch
14:15     Workshops
How to strengthen the European dimension of projects while also enhancing action at the grassroots level? How to identify potential partners and cooperate with other European programmes?
Which communication tools work best (e.g. e-tools, brochures, videos)? How to deal with different languages?
How to reach out to less active citizens and under-represented groups?
How to make results sustainable beyond the project's lifetime?
16:15    Coffee break
16:30     Concluding remarks
17:00     Visit of the Jean Monnet House
17:30     Public event: « L'éducation et la mémoire européennes:  » Cycle « Conversations sur l'Europe », marking the 40th anniversary of Jean Monnet's death.
Participants: Kaja Sirok, National History Museum of Slovenia and ICOM Slovenia |  Antoine Arjakosk, Collège des Bernardins |  Andreas Holtberget, Euroclio
Moderator: Maurice Braud, Association Jean Monnet
19:00     At Summer's end

Performance by Smashing Times International Centre for the Arts and Human Rights
19:20     Walking dinner
20:30     Joint departure by bus to Paris (Bus transportation will be provided)