Rountable
The 20th century was the age of the working class, and also of one of the central elements of its collective action repertoire: the strike.

Through this instrument, the workers have not only managed to improve their economic situation and working conditions but also, as a fundamental democratizing vector, to expand the sphere of social and democratic rights.

In 1919 in Barcelona, Catalonia, after a 44-day general strike with over 100,000 participants had effectively crippled the Catalan economy, the Government settled the strike by granting all the striking workers demands that included an eight-hour day, union recognition, and the rehiring of fired workers.

One century after the general strike of La Canadenca, this roundtable aims to reflect on the strike, the challenges and the transformations it faces today.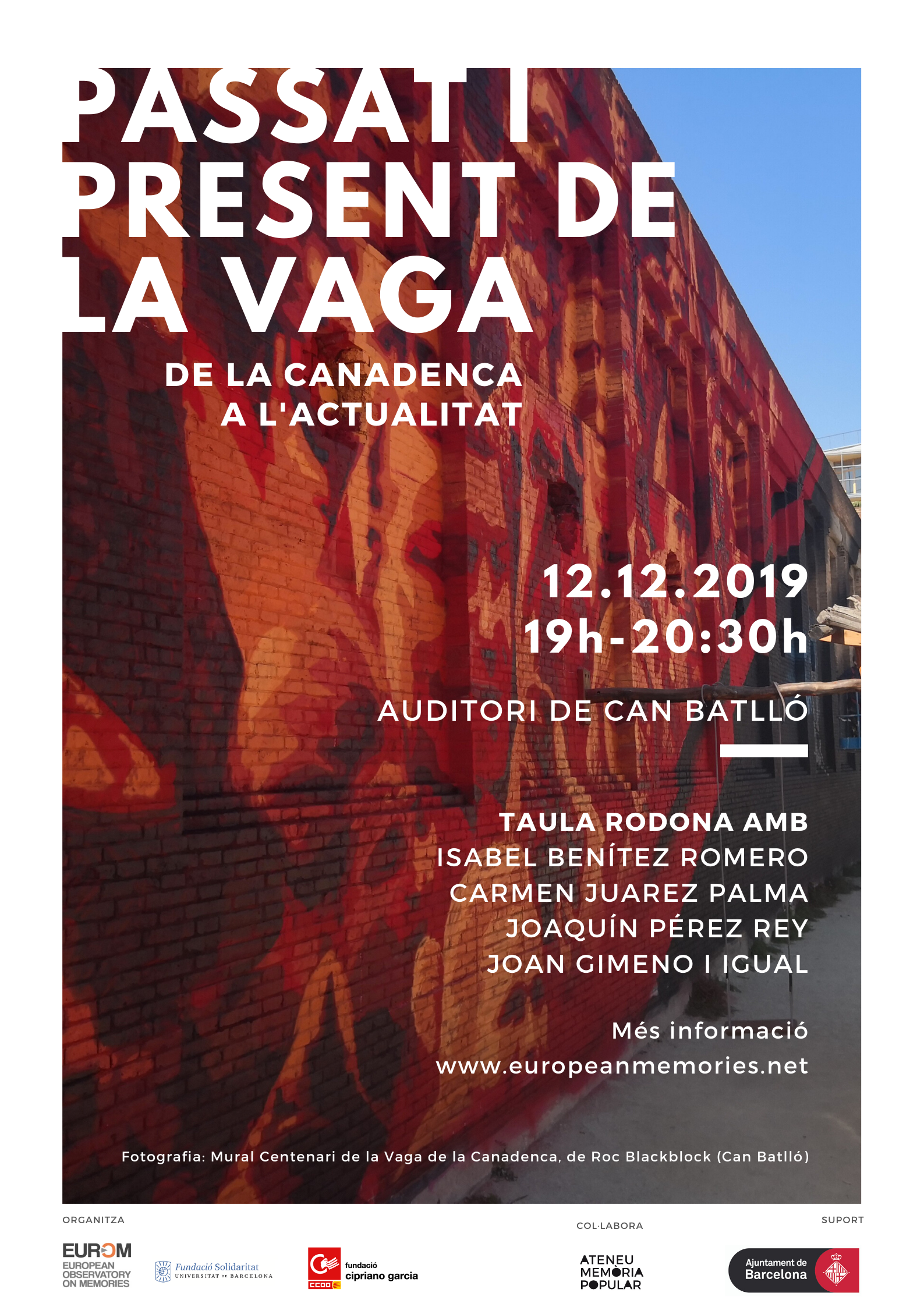 Si el segle XX va ser el segle de la classe obrera, també ho va ser un dels elements centrals del seu repertori d'acció col·lectiva: la vaga. Amb aquest instrument, els i les treballadores no només  han aconseguit millorar la seva situació econòmica i les condicions laborals, sinó també -en tant que vector democratitzador fonamental- ampliar l'esfera dels drets socials i democràtics. Un segle després de la vaga general a Barcelona que va conquerir la jornada de vuit hores, aprofitem per reflexionar sobre la vaga i els reptes i transformacions als que s'enfronta en l'actualitat mitjançant una taula rodona.

Participants
Llicenciada en Sociologia en la branca de polítiques socials i laborals. Coautora de "Panrico: La vaga més llarga" (Edicions 79), ha estat membre del Consell de Redacció de la Directa (2013-2017) i hi ha col·laborat com a redactora especialitzada en conflictes laborals. Col·laboradora de la publicació digital Marxismo Crítico i membre del Seminari d'Economia Crítica Taifa on es dedica específicament a temàtiques relacionades amb el feminisme marxià. Entre els seus treballs més recents es troben l'article "Allò sindical és polític. El pa de sang i la comunitat" sobre la relació de la "nova política" amb el sindicalisme de classe a Catarsi Magazine (2019); i el capítol "Las mujeres, la revolución bolchevique y la lucha contra el patriarcado" (Viejo Topo, 2018) del volum coordinat per Joan Tafalla dedicat a "La revolución rusa de 1917 y el Estado". Militant del sindicat Coordinadora Obrera Sindical (COS) del que va ser responsable nacional de Lluita Feminista del 2016 al 2018, actualment treballa com a tècnica interina al Servei públic d'Ocupació de Catalunya.
Cofundadora i membre de l'equip coordinador de l'associació Mujeres Migrantes Diversas de treballadores de la llar i de les cures. Ha pres part en múltiples iniciatives en el camp dels drets laborals, el feminisme i l'antiracisme. És integradora social i tècnica auxiliar d'infermeria, i actualment estudia el grau d'educació social a la Universitat de Barcelona. Des de setembre de 2019 és la responsable de Noves realitats del treball i precarietat de CCOO de Catalunya.
Doctor en dret per l'UCLM, professor titular de Dret del Treball i de la Seguretat Social a la Facultat de Ciències Jurídiques i Socials de Toledo i director del Departament de Dret del treball i Treball Social. Ha publicat diversos treballs relatius a l'estabilitat en l'ocupació, la temporalitat,  l'acomiadament i el dret a vaga.
Presenta i modera:
Joan Gimeno i Igual, doctor en Història comparada, política i social per la UAB. Ha treballat temes relatius al moviment obrer sota el franquisme i en democràcia.
Organització: Observatori Europeu de Memòries de la Fundació Solidaritat UB i Fundación Cipriano García. Amb la col·laboració de Can Batlló i Ateneu de Memòria Popular, i el suport de l'Ajuntament de Barcelona.